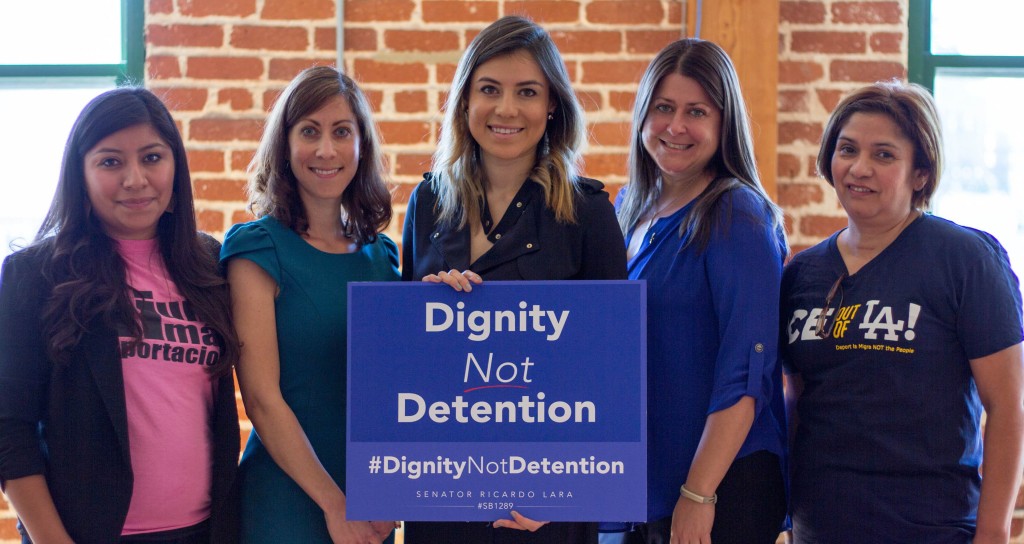 CIVIC is a proud co-sponsor of the Dignity Not Detention Act, authored by Senator Ricardo Lara (D-Bell Gardens). Also known as SB 29, this groundbreaking legislation in California will 1) stop local government from being complicit in the creation and renewal of certain contracts with for-profit immigration detention facilities, 2) make the currently unenforceable national immigration detention standards the law in California and provide additional protections for detained LGBTQ immigrants, and 3) allow the state to enforce violations of these protections. Learn more about California immigration detention facilities in our interactive map:



Where is the bill now?
SB 1289, the predecessor bill to SB 29, was just a signature away from becoming law in 2016. This could not have been accomplished without tremendous support. SB 1289 had the support of over 50 organizations statewide, the City of Berkeley, the County of Alameda, the Board of Supervisors of San Francisco, and was a priority for the Latino Caucus. As a landmark bill, SB 1289 was extensively covered in the media, including in the Los Angeles Times. The Dignity Not Detention Act was re-introduced as SB 29. Under Trump's impending expansion of immigration detention, Senator Lara re-introduced the Dignity Not Detention Act as part of a broader #Fight4CA legislative package.

Why SB 29?
• SB 29 would be a massive victory and could influence other states and the national policy debate on private prisons. With the DOJ and DHS announcements, CA stands poised to be a national leader on the fight against mass incarceration.
• SB 29 takes on prison corporations, a key factor driving reliance on immigration detention. Private facilities frequently have local "lockup" quotas, where facilities are paid regardless for a minimum number of beds. Private prison corporations have also lobbied heavily in DC for more detention.
• SB 29 would be groundbreaking in creating legally enforceable standards for immigrants suffering inhumane detention conditions.
• SB 29 provides extra protections for the LGBTQ community, among the most vulnerable in immigration detention.
• SB 29 increases transparency by ensuring that immigration detention contracts, including those involving private facilities, are subject to the California Public Records Act

More About Immigration Detention in California:



ICE contracts with private companies to run detention facilities to hold immigrants, including undocumented people, asylum-seekers, long-time green card holders, and others who are awaiting their immigration hearings. In California, there are four privately run detention facilities that hold upwards of approximately 75 percent of people in immigration detention statewide. The rest are held in county and city jail facilities that contract with ICE.

There have been consistent reports of human rights abuses in California detention facilities, including physical and sexual abuse, poor access to healthcare, little access to legal counsel, and overuse of solitary confinement, and even death. In many of these instances, even the Department of Homeland Security has found these deaths were preventable. LGBT immigrants have reported facing discrimination, harassment, and abuse due to their sexual orientation. Tragically, the incidents often go unaddressed and victims have no recourse.

Private, for-profit immigration detention facilities present a host of problems. The facilities are not subject to the Freedom of Information Act or to CA Public Record Act requests and operate with little to no oversight. Many also operate under a perverse incentive, where they are guaranteed a minimum number of immigrants in their facility at all times, ensuring their profits. For example, at the Adelanto Detention Facility in Adelanto, CA, ICE is guaranteed 1,455 people at all times with a per diem rate of $111.92 per person per day. Perversely, if the number of beds filled increases over 1,455, the per diem rate drops to under $50 per day per bed. The private detention contracts are designed to incentivize filling the most beds at all times, regardless of public safety or their destructive effects on communities. Indeed, private companies make billions in profits every year from incarcerating mothers, fathers, children, and others in our broken immigration system.



The legislation is co-sponsored by the Community Initiatives for Visiting Immigrants in Confinement (CIVIC) and the Immigrant Legal Resource Center.

"Now more than ever, we must safeguard human rights in immigration detention," said Christina Fialho, a California attorney and the co-executive director of CIVIC. "We are confident that the legislature and the Governor will make dignity not detention the law of the land this coming year."

Individuals who have been detained speak out in support of the bill: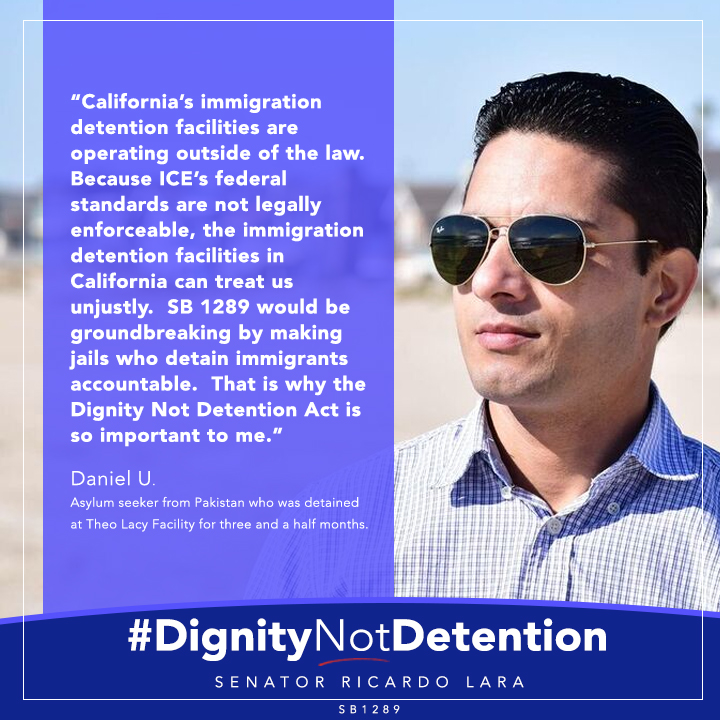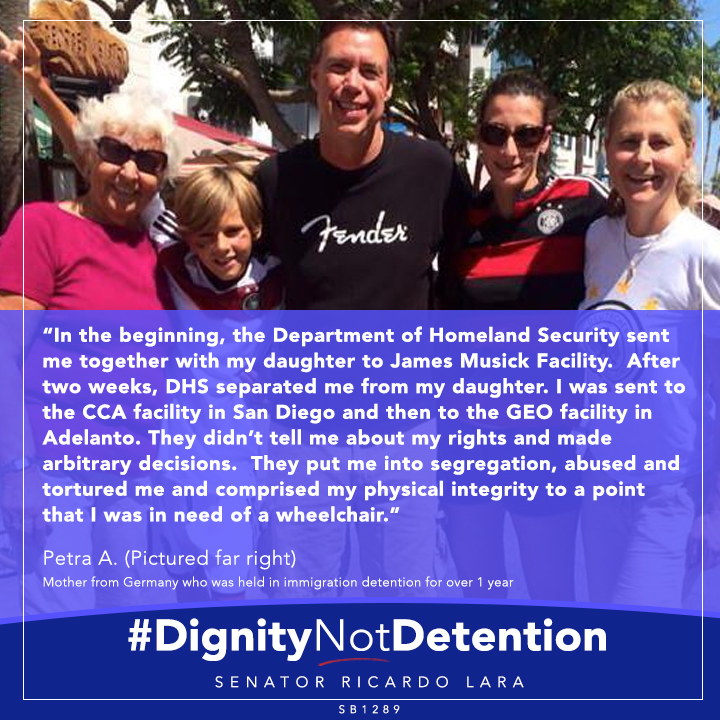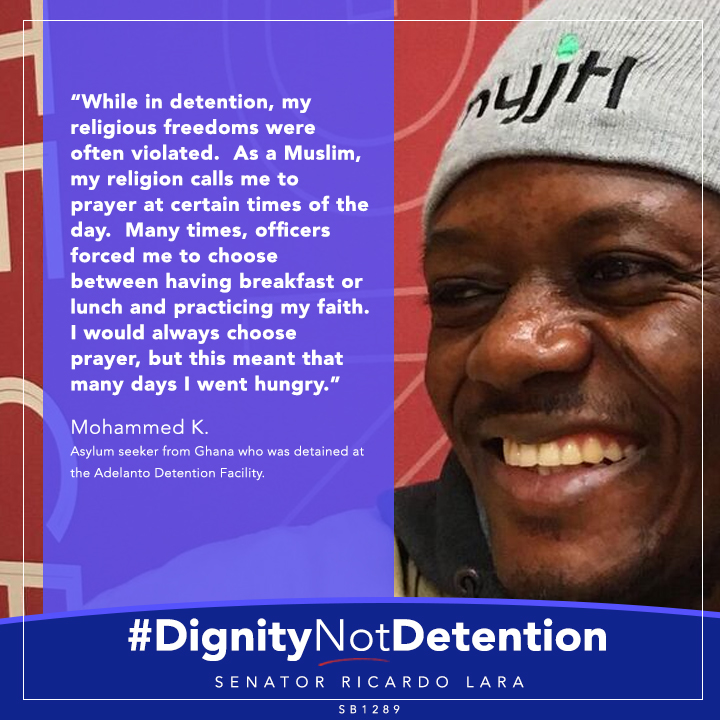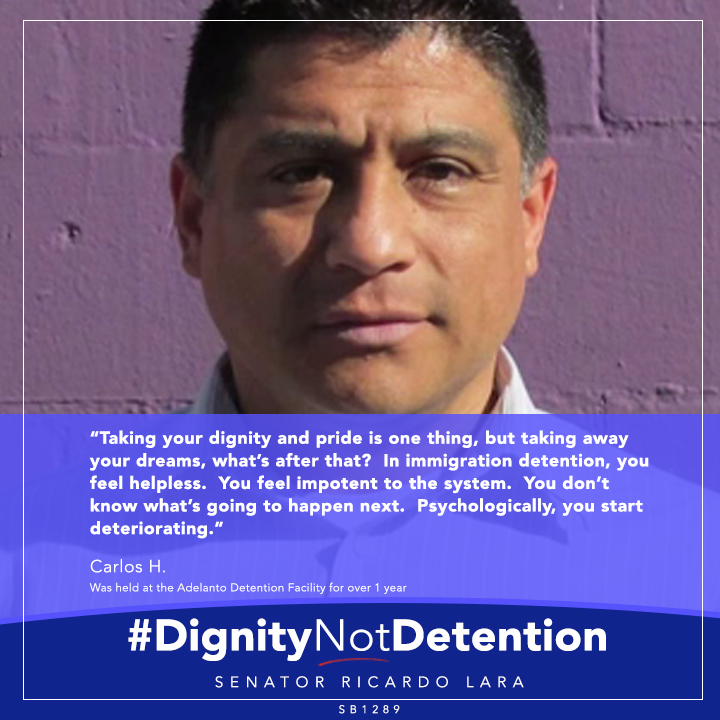 Join the #DignityNotDetention Movement!