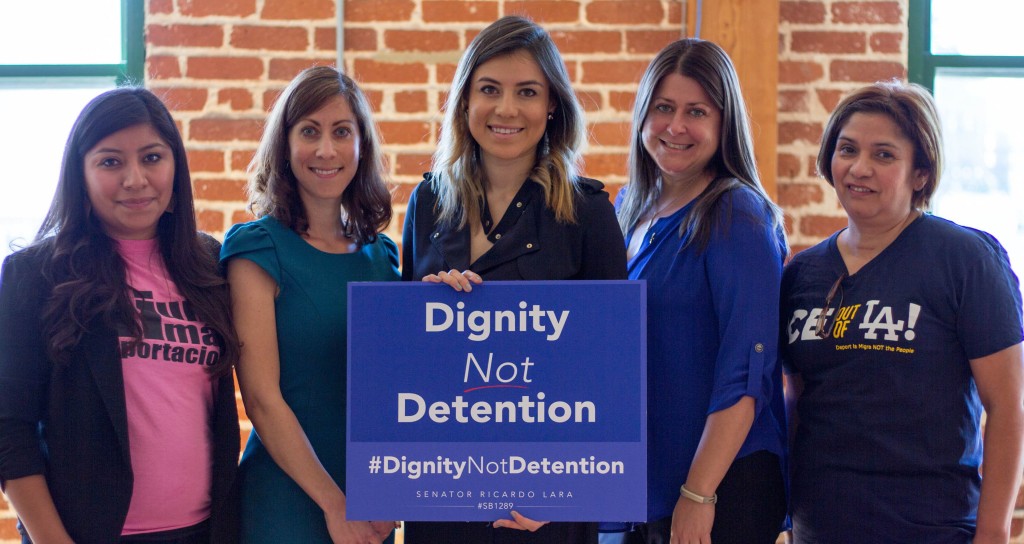 CIVIC is a proud co-sponsor of the Dignity Not Detention Act, authored by Senator Ricardo Lara (D-Bell Gardens) in California. Also known as SB 29, California signed into law this groundbreaking legislation in October 2017. The Dignity Not Detention Act stops local governments from being complicit in the for-profit immigration detention system.

This bill combined with California's budget bill, signed into law in the Summer of 2017, puts a moratorium on immigration detention expansion in a state that detains a quarter of all people in immigration detention each year. CIVIC and the Immigrant Legal Resource Center consulted on and successfully advocated for two provisions in California's state budget bill, AB 103. Governor Brown signed this budget action into law, and California became the first state in the country to put a moratorium on all new contracts between California municipalities and ICE for immigration detention expansion for the next 10 years. The budget action also has given the state Attorney General the power and resources to monitor all public and private immigration detention facilities in California.

CIVIC is now pursuing the fight for #DignityNotDetention across the country. And we have already begun to take this fight to Washington, D.C. In direct response to our budget bill in California, Congresswoman Pramila Jayapal (D-WA) introduced a federal budget amendment to stop immigration detention expansion nationwide. CIVIC consulted on Congresswoman Jayapal's federal budget amendment, and we will continue to push for laws across the country that uphold #DignityNotDetention.

Join us today! Sign up for our mailing list below to learn more or email Christina Fialho at CFialho@endisolation.org if you are interested in launching a #DignityNotDetention Policy Campaign in your state.