The Phone Justice for Immigrants in Detention Campaign is led by Community Initiatives for Visiting Immigrants in Confinement (CIVIC) in alliance with the Campaign for Prison Phone Justice.



CIVIC and its affiliated community visitation programs speak with families every day who are unable to receive phone calls from their loved ones in immigration detention due to the exorbitant price of a phone call. CIVIC initiated this campaign in March 2013, advocating for three specific reforms.

STAGE 1 GOAL: CIVIC joins the Campaign for Prison Phone Justice in urging the Federal Communications Commission (FCC) to pass the Wright Petition.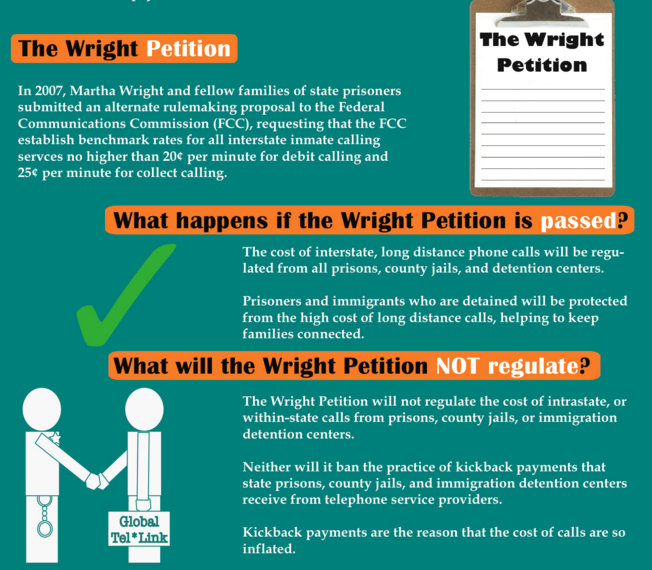 OUTCOME: In late 2013, the FCC adopted an order to lower interstate prison phone rates, capping the cost for a 15-minute call at $3.75 instead of — in some extreme cases — up to $17. CIVIC worked to ensure that all immigration detention facilities were part of this adopted order by filing a comment with the FCC, an amicus brief along with 19 other partners in the U.S. Court of Appeals for the D.C. Circuit supporting the FCC's efforts to regulate exorbitant rates, and conducted additional advocacy!

STAGE 2 GOAL: CIVIC calls on states to outlaw phone kickbacks at all incarceration centers, particularly immigration detention facilities. Phone calls are expensive because they are placed through independent telephone companies that pay the state, the county jail, or the for-profit prison a "commission"—essentially a kickback—that ranges from 15 percent to 60 percent either as a portion of revenue, a fixed upfront fee, or a combination of both.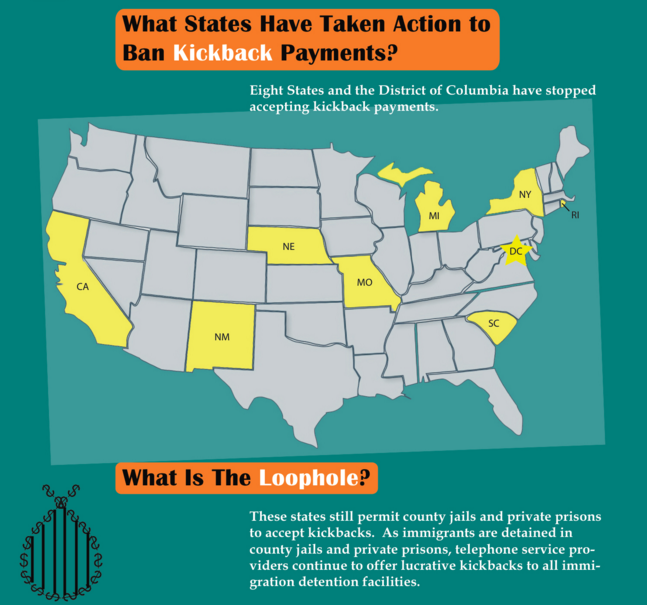 OUTCOME: CIVIC filed public record requests in all 58 counties in California to determine the structure of all prison phone contracts in the state. CIVIC then led an effort to push forward and co-sponsor AB 1876. Although the bill did not become law, CIVIC harnessed the research and momentum from this effort to submit another comment and support the adoption of another FCC rule in 2015 that covers all intrastate phone calls. The rule was adopted and hopefully will go into law in 2016 (even though Telmate filed a petition for a stay). In short, the rule reduces the average cost of the vast majority of calls from immigration detention facilities to $1.65 for 15 minutes, down from $2.96 for intrastate calls and $3.15 for interstate ones.

STAGE 3 GOAL: While the FCC's rulings regulate all ICE facilities, CIVIC recognizes the unique circumstances faced by people in immigration detention. While we advocate for an end to immigration detention entirely, CIVIC is calling on ICE to terminate contracts with all county jails and private detention facilities that profit from the human suffering that exorbitant phone and video visitation rates create. ICE must require that all facilities that holds immigrants in detention on its behalf abide by ICE's 2011 PBNDS 5.6 on Telephone Access: "Detainees shall have reasonable and equitable access to reasonably priced telephone services." And ICE should require facilities to "provide opportunities for both contact and non-contact visitation with approved visitors during both day and evening hours," as is encouraged by ICE's 2011 PBNDS 5.7 on Visitation.

In 2016, CIVIC will continue to advocate for each person in immigration detention to have a legally protected right to unlimited free phone calls to their attorneys, at least one free phone call to a family member after being detained or transferred to a new facility, and the right to contact visits with their loved ones. Join us! Email CMansfield@endisolation.org.