OUR MISSION

Community Initiatives for Visiting Immigrants in Confinement (CIVIC) is the national immigration detention visitation network, which is working to end U.S. immigration detention by monitoring human rights abuses, elevating stories, building community-based alternatives to detention, and advocating for system change.

OUR VISION

CIVIC envisions a world without isolation because we believe isolation is the key component to oppression. Throughout history, the voices of those who have been colonized, exploited, and marginalized are rarely heard because those who are in power develop systems of isolation. These systems have taken many forms, such as Nazi concentration camps, Japanese internment camps, South African apartheid, and Jim Crow segregation laws. But we must not make the mistake and assume that this is merely history. Structures of isolation, oppression, and racism are as alive today as they were 100 years ago. The current U.S. immigration detention system is designed to isolate us from one another in an effort to keep this system a secret from the American public and prevent widespread organizing against it.

Therefore, CIVIC is working to end isolation at its root by breaking down the walls that separate the community members on the outside from individuals on the inside. More specifically, CIVIC is building a movement of volunteers who connect personally to those detained through weekly visits. These volunteers then work in collaboration with people in detention to monitor conditions, elevate their stories, educate legislators, and change policy. In addition, CIVIC is building an alternative to detention that is more humane and effective as well as less expensive than the status quo. CIVIC's alternative accompaniment program replaces immigration detention beds with holistic community support with the ultimate goal to defund the imprisonment of immigrants, thereby ending the U.S. immigration detention system.

The United States' immigration detention system, which is the largest in the world, has provided a roadmap to mass imprisonment that almost every other country in the world has followed. By changing the ways that immigrants are treated here, the United States can set an example for how to uphold the human rights and dignities of individuals and abolish this archaic and unnecessary state response to human migration.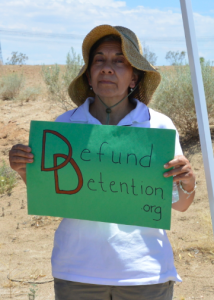 COME JOIN US!

CIVIC is composed of a diverse and experienced coalition of local community members, religious leaders, university students, undocumented individuals, and grassroots supporters. In 2012, CIVIC's co-founders Christina Fialho and Christina Mansfield were awarded the prestigious Echoing Green Fellowship, which is given to the world's top emerging social entrepreneurs.

We invite you to explore our website and campaigns, get to know us, and then join us to create a country where no person is isolated in immigration detention!