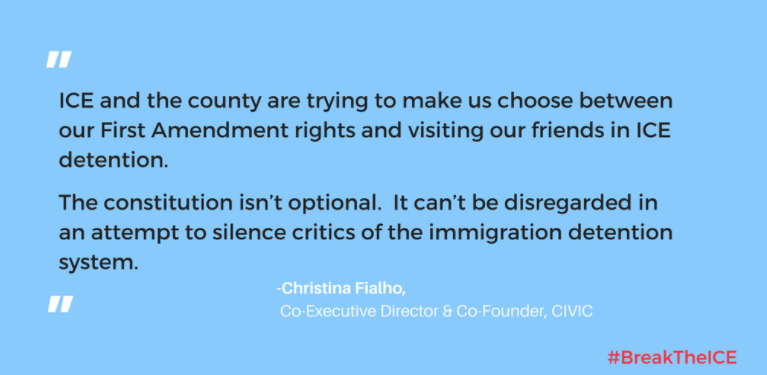 SAN FRANCISCO–Over the past five years, Immigrations and Customs Enforcement (ICE) and its contractors have retaliated against volunteers who criticized the agency or participated in protests by illegally barring them from visiting people in detention, a violation of the First Amendment.
Today, Community Initiatives for Visiting Immigrants in Confinement (CIVIC)—a national advocacy group for immigration detention visitors—along with the American Civil Liberties Union Foundation of Northern California (ACLU NorCal) and 89 community groups wrote to ICE and the Contra Costa County Office of the Sheriff requesting that they stop retaliating against visitors who publicly criticize the U.S. immigration detention system or face legal action.
The visitation program ban at the West County Detention Facility (WCDF) came the day before Attorney General Jeff Sessions filed a suit against California's sanctuary laws, including AB 103, which CIVIC helped draft and provides the California state Attorney General with the power to monitor ICE detention facilities in the state.  In Sessions' complaint, he explicitly names the WCDF as a place he does not want the state monitoring.
"In terminating our program, the Sheriff's Department and ICE are not just trying to punish us, they are trying to send a message to other activists to stay silent.  We will not be silenced," said Fialho.
Signatories to the ACLU NorCal letter in support of CIVIC include the Lawyers' Committee for Civil Rights of San Francisco, the National Immigrant Justice Center, and the Alameda Labor Council, AFL-CIO, among many other.  Jeff Adachi, who is the  Public Defender of the City and County of San Francisco also signed on.
Read the full sign-on letter here.
Read our full press release: http://www.endisolation.org/blog/archives/1361
Organizations that have signed on:
Adjunct Justice
Advancing Justice – Asian Law Caucus
Alameda Labor Council, AFL-CIO
Amnesty International USA
Bend the Arc Jewish Action
Beyt Tikkun Synagogue-without-walls
Block-by-Block Organizing Network
California Sanctuary Campaign
California Coalition for Women Prisoners
California Immigrant Policy Center (CIPC)
California Immigrant Youth Justice Alliance (CIYJA)
California Nurses Association
Clergy and Laity United for Economic Justice (CLUE)
Communities for a Better Environment
Community Clinic Consortium
Contra Costa Immigrant Rights Alliance (CCIRA)
Contra Costa Progressives
Contra Costa County Racial Justice Coalition
Council on American-Islamic Relations, San Francisco Bay Area Office
Courageous Resistance El Sobrante/Richmond
Creating Freedom Movements: more justice, more joy
Democratic Socialists of America Burlingame Chapter
Detention Watch Network (DWN)
Disability Studies Program, University of California, Berkeley
Dolores Street Community Services
East Bay Alliance for a Sustainable Economy (EBASE)
East County for Immigrant Rights and Education (ECFIRE)
ECHO
Ecumenical Peace Institute/Clergy and Laity Concerned
El Cerrito Progressives
End Solitary Santa Cruz County
Faith Alliance for a Moral Economy (FAME)
Faith In Action Bay Area, PICO CA
First Congregational Church of Oakland
First Friends of NJ & NY
Fools Mission
Friends of Broward Detainees
Friends of Miami-Dade Detainees
Grassroots Leadership
Iglesia Luterana Santa Maria y Santa Marta
Immigrant Legal Resource Center (ILRC)
Indivisible4C (Central Contra Costa County)
Indivisible 4 Immigration
Indivisible East Bay
Interfaith Communities United for Justice and Peace
Interfaith for Black Lives
Interfaith Movement for Human Integrity
Jeff Adachi, Public Defender of San Francisco
Jewish Family & Community Services East Bay
Jewish Gateways
Jewish Voice for Peace – Bay Area
JeWitch Collective
Kehilla Community Synagogue
Kern Welcoming and Extending Solidarity to Immigrants (KWESI)
La Raza Centro Legal
Lamorinda Sanctuary
Las Cruces CIVIC
Latino Education Network
Latino Task Force
Lawyers' Committee for Civil Rights of the San Francisco Bay Area
Media Alliance
Migrant Rights Collective
Mill Valley Community Action Network
Mobilize the Immigrant Vote
Monument Impact
Mt. Diablo Peace and Justice Center
Mt. Diablo Unitarian Universalist Church Social Justice Council
Multifaith Immigration Coalition for Action (MICA)
National Immigrant Justice Center (NIJC)
National Lawyers Guild (NLG), Sacramento Chapter
Network of Spiritual Progressives
New Hampshire Immigrant Visitation Program
NorCal Resist
Oakland Community Organizations (OCO)
Oakland Education Association
Oakland Privacy
Organizing For Action (OFA) Contra Costa
Pangea Legal Services
Peace United Church of Christ
Priority Africa Network
Pueblo Sin Fronteras
Queer Detainee Empowerment Project (QDEP)
Refugee Transitions
Reuniting Families Contra Costa
Riverside Sojourners Detention Visitation Program
Root & Rebound
Sacramento Area Congregations Together
Saint Columba Catholic Church
San Francisco Peninsula People Power
San Francisco Zen Center
Sanctuary Santa Cruz
Santa Cruz Branch of Women's International League for Peace and Freedom
Santa Cruz Community Coalition to Overcome Racism (SCCCCOR)
Santa Cruz Dreamer Project
Services, Immigrant Rights, and Education Network (SIREN)
Shomeret Shalom Global Congregation
Showing Up for Racial Justice (SURJ) Marin
Sisters of Mercy Solidarity Committee
Sisters of Mercy of the Americas – Institute Justice Team
Sisters of Mercy West Midwest Community
Sleepy Hollow Presbyterian Church
Society for Immigrant and Refugee Rights (SIRR) at Columbia Law School
Solidarity Action Minyan of Congregation Chochmat HaLev
Street Level Health Project/Proyecto de Salud para Todos
Together We Will Contra Costa Community Action Group
Unitarian Universalist Church of Berkeley's Social Justice Council
Unitarian Universalist Church of Palo Alto Action Council
Unitarian Universalist Fellowship of Redwood City (UUFRC) Social Action Committee.
Unitarian Universalist Society of Sacramento
Wellstone Democratic Renewal Club Coordinating Committee
World Institute on Disability
Your Allied Rapid Response
YVote