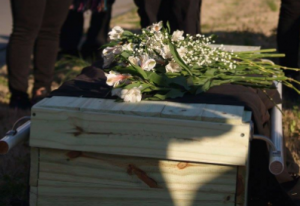 CIVIC is calling for an independent investigation after a Nicaraguan man, Osmar Epifanio Gonzalez-Gadba, 32, died while in U.S. immigration detention after months of incarceration at a privately-run detention center that has been accused of medical neglect in the past.
Mr. Gonzalez-Gadba was detained on December 29, 2016, near Otay Mesa in Southern California.  He was transferred to and was detained at the Adelanto Detention Facility, a facility run by GEO Group.  ICE reported that Mr. Gonzalez-Gadba was transferred to the hospital from the Adelanto Detention Facility on March 22nd, after GEO staff conducting routine evening rounds at the detention center found him hanging in his cell.  Medical staff at Adelanto called 911, and according to ICE, began efforts to resuscitate him.  Gonzalez-Gadba was rushed to the hospital's intensive care unit and placed on life support.
Gonzalez-Gadba never regained consciousness.  He passed away early Tuesday morning with the preliminary cause of death being heart failure resulting from asphyxiation.
"The Adelanto Detention Facility is known for its substandard medical care.  Mr. Gonzalez-Gadba's death should be fully investigated to ensure that his death could not have been prevented," said Christina Fialho, an attorney and the co-founder/co-executive director of Community Initiatives for Visiting Immigrants in Confinement (CIVIC).  
In previous statements released by ICE regarding apparent suicide victims, ICE usually immediately mentions that the suicide victim did not seek medical attention.  However, ICE made no such comment regarding Mr. Gonzalez-Gadba's death.  Fernando Dominguez Valdivia's death in 2012 at the Adelanto Detention Facility was deemed preventable by the U.S. Office of Detention Oversight.  CIVIC also has documented disturbing circumstances around the death of Raul Ernesto Morales-Ramos in 2015 at the Adelanto Detention Facility.
Mr. Gonzalez-Gadba is the fifth person to die in immigration detention in 2017 according to ICE, and he is the fourth person to die at the Adelanto Detention Facility.  
Our hearts go out to the family and friends of Mr. Gonzalez-Gadba.