BENEFITS OF VISITATION
To combat the isolating experience of immigration detention, communities throughout the United States are establishing volunteer-based visitation programs offering friendship and a connection to the outside world. Community visitation programs not only transform the hearts and minds of individual visitors by providing them with opportunities to build sustained relationships with persons in immigration detention, but also ensure that persons in immigration detention can maintain family and community ties. Additionally, visitation programs are often the only consistent community presence in immigration detention facilities and can provide civilian oversight to a system that has little public accountability.

TYPES OF VISITATION PROGRAMS
There are over 30 CIVIC-affiliated visitation programs across the United States in various stages of development.  Generally, there are two types of visitation programs: those that operate with the formal approval of U.S. Immigration and Customs Enforcement (ICE) and detention center/jail staff and those that operate informally without this approval.  Below are three common approaches to starting formal and informal visitation programs:

1) Due to visitation policies at specific detention facilities, communities build formal relationships with ICE and detention center/jail staff to allow for consistent visitor access. (Example: Detention Dialogues, West County Detention Facility in California)

2) Communities coordinate with ICE and detention center/jail staff to start a formal visitation program, not out of necessity, but because these relationships provide extra incentives, such as contact visits and other privileges. (Example: Interfaith Committee for Detained Immigrants, McHenry County Jail in Illinois)

3) Communities operate informal visitation programs, meaning that the community group does not have a formal relationship with ICE and detention center/jail staff.  Instead, the group works with family members and attorneys to identify immigrants in detention who are in need of support. These visitation programs need only the full name, nationality, and Alien Registration Number of those detained in order to set up visits. (Example: Grassroots Leadership's Visitation Program, T. Don Hutto Detention Center in Texas)

CAMPAIGNING FOR A RIGHT TO VISITATION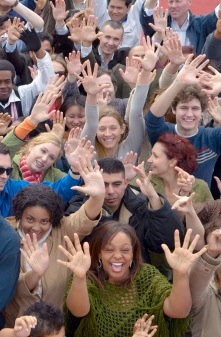 Raise your hands for the right to visitation in immigration detention! CIVIC advocates for a legally protected right for family members and the community to visit friends and loved ones in immigration detention. Read CIVIC's fact sheet on the right to visitation to learn more.

Despite the fact that there remains no right to visitation, there is hope for change! In February 2013, ICE publicly supported CIVIC and encouraged community visitation programs in immigration detention. The Office of the Public Advocate at ICE, in commemoration of its one-year anniversary, released its agency-wide newsletter, explaining that "ICE is committed to working with community visitation programs affiliated with CIVIC."

However, in July 2013, ICE suspended three CIVIC-affiliated visitation programs in response to CIVIC's public criticism of detention conditions. The ACLU of Southern California explained that the suspensions raised grave First Amendment concerns and volunteers held a peaceful vigil outside one of the facilities. CIVIC was featured in the Los Angeles Times, the Associated Press, the Huffington Post, and many other newspapers. CIVIC received an ICE ERO Response, but as CIVIC pointed out in a subsequent letter, ICE's response did not provide a reason for the suspensions or clearly state the rules under which the programs could resume operations.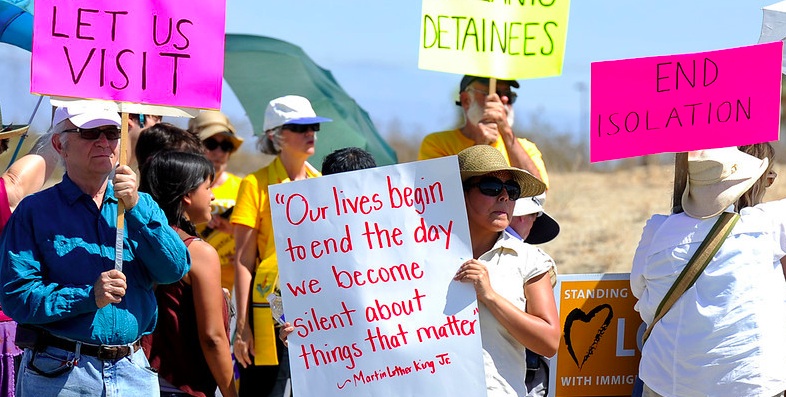 All three visitation programs were restored in about one month.

Visitation programs have always feared speaking up when they see injustices and abuses in immigration detention facilities for fear of retaliation from ICE or the facilities. The suspension of these three programs confirmed those fears, but also empowered volunteers. Although ICE has continued to try and stifle our right to free speech by attempting to coerce some volunteers to sign egregious confidentiality agreements, CIVIC volunteers are overcoming their fears and speaking out and CIVIC is continuing to fight for a right to visitation.

"In the end we will remember not the words of our enemies but the silence of our friends." MLK

RESOURCES TO SHARE