Use CIVIC's interactive map of all U.S. immigration detention facilities to locate a facility near you. The facilities are categorized by facility operator (i.e. privately-run, ICE-run, or county/city-run). Click on a facility to learn how many people are detained there per day, local lock-up quotas, and the cost per person per day, and more. On average, taxpayers spend $90.43 to detain a person in a private immigration detention facility, compared to an average of $72.69 in a municipal jail. This map also contains information on each CIVIC-affiliated visitation program.

What is immigration detention?
The United States maintains the largest immigration detention infrastructure in the world, detaining approximately 380,000 to 442,000 persons per year.  Persons–including legal permanent residents with longstanding family and community ties, asylum-seekers, and victims of human trafficking–are detained for weeks, months, and sometimes years.  U.S. Immigration and Customs Enforcement (ICE) detains women, men, children, and LGBTQI individuals in over 200 county jails and for-profit prisons.
Make a Difference
Your support helps CIVIC protect immigrants from abuse and end their isolation in detention.
The U.S. immigration detention system is a relatively recent phenomenon. Prior to the 1980s, there were only approximately 30 people in immigration detention each day. The 1980s gave rise to two major prison corporations, GEO Group and Corrections Corporation of America, that lobbied the government for laws that expanded detention and other forms of incarceration. In fact, various federal and state laws were passed that resulted in a new prison built every 15 days throughout the 1990s.

In 1996, President Bill Clinton signed the Antiterrorism and Effective Death Penalty Act (AEDPA) and the Illegal Immigration Reform and Immigrant Responsibility Act (IIRIRA), which doubled the number of people in immigration detention from 8,500 each day in 1996 to 16,000 in 1998. These laws gave the U.S. government the ability to deport lawful permanent residents convicted of certain crimes, required victims of persecution abroad to be immediately detained when claiming asylum at a U.S. port of entry, and took discretion away from judges to grant release to certain immigrants. Today, the detention population has increased fourfold to approximately 34,000 individuals each day, due in part to a Congressionally mandated lock-up quota .

This lock-up system is a massive waste of taxpayer dollars. Congress has appropriated a large budget to immigration detention. ICE estimates that it costs the government $12,500 to deport each individual, but when the costs of apprehension, detention, legal processing, and transportation are combined, the government spends more than $23,000 to deport each person.  Detention alone cost taxpayers approximately $2 billion in 2015.

As there exists no independent oversight of the system, people in immigration detention are vulnerable to abuse.  Immigrants in detention facilities around the United States are often subjected to punitive and long-term solitary confinement.  They are subject to inadequate medical care, vulnerable to rape and assault, and often isolated from access to legal assistance and community support.

What states detain the most immigrants?
Texas, California, Arizona, Georgia and New Jersey are the top five states with the largest number of people in U.S. immigration detention. Click on this graphic for more information:




How many people are detained in private facilities?
Over 60 percent of people are held in privately-run immigration detention facilities. For example, GEO Group and Corrections Corporation of America (CCA) together detain approximately 15,000 people in immigration detention per day. Click on this graphic for more information: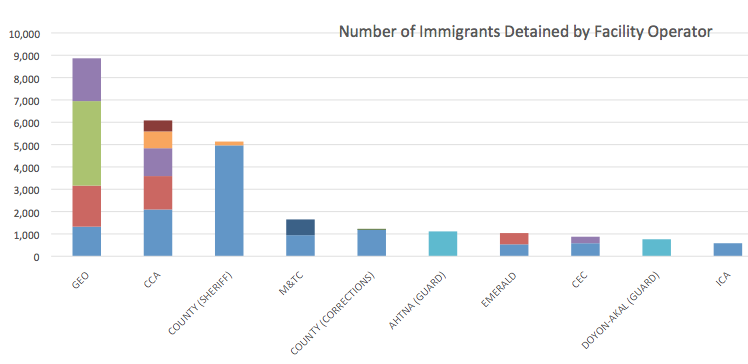 Who profits from immigration detention?
GEO Group receives more taxpayer dollars for immigration detention than any other ICE contractor. Click on this graphic for more information about who profits:


Who is paying for immigration detention?
Taxpayers spend about $2 billion per year. Yet, there remains little accountability for how these tax dollars are spent. In fact, most immigration detention facilities do not even have a federal Detention Monitoring Unit; the federal Detention Monitoring Units that do exist have little ability to ensure facilities are complying with ICE's Standards because the Standards are not legally enforceable. Click on this graphic for more information about the federal Detention Monitoring Units: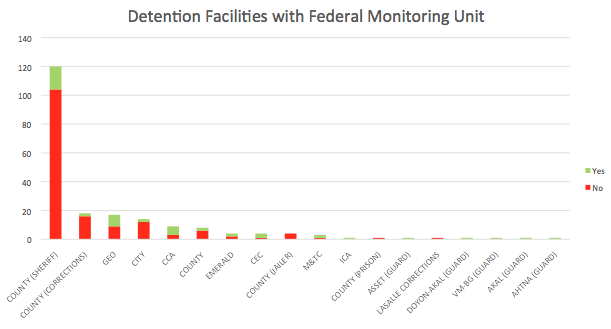 How can I learn more?
Watch our webinar, Immigration Detention 101:


Check out ICE's Freedom of Information Act (FOIA) Library and the National Immigration Justice Center FOIA results. You also can learn how to file your own Public Record Request or FOIA by reading CIVIC's Short Guide to Record Requests. We also encourage you to sign up for our mailing list below. Together, we can defund U.S. immigration detention!

All the information contained on this webpage was obtained through FOIA's and other public record requests and compiled by CIVIC.